Kanye West's fiancée, Alexis Phifer, won't have to worry about any impending mother-in-law issues: her beau's mom is crazy about her.
"I think she's a very outstanding young woman," Dr. Donda West tells PEOPLE. "She's quite talented, very intelligent, very creative. Very sweet, thoughtful, generous. I can't think of one negative thing I would say about her, even in private!"
Dr. West, whose new memoir,
Raising Kanye,
hits shelves on Mother's Day and who has her 29-year-old son's ode to her, "Hey Mama," as the ring-back tone on her Blackberry, says she "loves" Phifer, to whom her son
proposed last summer
.
The couple have not yet set a wedding date because "they're so busy traveling the world and having fun that they haven't had time," says Dr. West, the former chair of the English department at Chicago State University who now works with her son as one of his managers.
And don't bring up the "e" word (elopement). "I'm just keeping my fingers crossed that I don't look up and they say, 'Come to the reception. The wedding is over!' "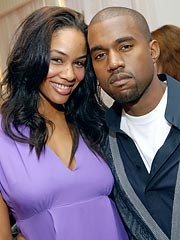 Stephen Lovekin / WireImage
When it does come time to plan the big event, "I don't want to get involved in the wedding at all, except to be there. I assume it'll be well planned and very creative. It's going to be beautiful and an outstanding event, and what's going to make it great is that they love each other very much."
Dr. West's favorite thing about her future daughter-in-law? "The best thing that I love about her is that she loves my son," she says. "You can't beat that."