• "I feel that I was treated unfairly, and that the sentence is both cruel and unwarranted. I don't deserve this."
–
Paris Hilton,
after
being sentenced
to 45 days in jail for violating probation after driving with a suspended license
• "I hope that someone else will learn from the tape, as I have."
–
David Hasselhoff,
in a statement discussing a recently released videotape in which he
appears intoxicated
• "I can't even go to the dry cleaner by myself anymore. You're seen in public with anybody that you might not even know, and you're speculated about."
–
Jessica Biel,
on the media's interest in her
love life,
to
Elle
• "I'm used to 'dork, silly, geeky, awkward, you're too enthusiastic you're scaring me' – those are the things I'm used to hearing from people. So this is a nice change of pace."
–
Drew Barrymore,
on being chosen as the cover girl for
PEOPLE's Most Beautiful issue
• "I'm never going to shun, disrespect or neglect anybody who shows me genuine non-psychotic love."
–
Michelle Rodriguez,
embracing her
lesbian fans,
in a post on her
Web site
• "I do it on airplanes. I do it behind the puzzle board at
Wheel of Fortune
between rounds."
–
Vanna White,
on her crocheting hobby, on DIY Network's
DIY Inside: Craft and Hobby Show 2007
• "The hair was going around and around and I was like... ooooh... Stay On!"
–
Kelly Ripa,
on worrying about Britney Spears keeping her wig in place during her
comeback performance,
on
Live with Regis and Kelly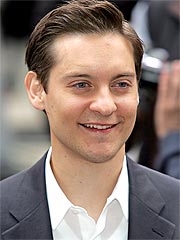 • "He told me that for someone of my body type to get to a size 12, I would have to eat a lot of sh---- food, stop exercising and drink loads. But I don't want to have to go round eating crap and being really unhealthy in order for people to stop having a go at me."
–
Keira Knightley,
on consulting a doctor about how to put on weight so she could
quash anorexia rumors,
to British
Elle
• "But it's nice to sleep, too."
–
Spider-Man 3
star
Tobey Maguire,
on why he chooses not to wake up for every midnight feeding of his 6-month-old daughter Ruby, even though he was excited to be "super dad," on
Ellen
Last week's They Said What? >