What woman in her right mind actually likes trying on bathing suits? And yet when these six arrived at a downtown Manhattan studio to be photographed for our cover story, they were astonishingly comfortable as they ditched their street clothes and – while cheering each other on – slipped into suits that ranged from skimpy to skimpier. "It really takes a woman who has been big before and lost weight to understand that feeling good in a bathing suit is a wonderful, special thing," says Monica King. "It was a very powerful moment."
And a bonding one too as the group assured Kate Smith she looked great in boy shorts and encouraged Isabel Curadeau to show off her cleavage with a sweetheart neckline. By the time they all lined up for this group shot, they were ready to work it. "It made all the difference in the world to have the other women there, knowing we all felt the same way about ourselves," explains Smith. "We're still not quite able to believe that we look as good as we feel!"
Isabel Curadeu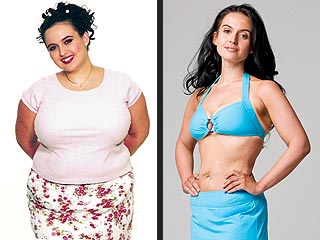 TURNING POINT:
As a plus-size model in her native Canada, Curadeau says she knew "I was very heavy." But she didn't know just how heavy until she stepped on the scale at a friend's house in April 2002 and saw it hit 232 lbs. "I sat back down at the table and didn't finish the doughnuts in front of me."
HOW SHE DID IT:
"I'm French and Italian, so [before] it was bread, pastas and sauce all the time," she says. But after one meeting with a nutritionist and countless hours spent researching healthy eating tips on the Internet (foodnetwork.com was a favorite), the 5'4" Curadeau began eating whole wheat toast at breakfast, grilled meat and vegetables for lunch, and a bowl of soup or salad for dinner. "I was starving," she admits. "But I was very motivated." She also began walking up to 45 minutes a day, six days a week.
100-LB. MOMENT:
After losing 72 lbs., Curadeau, 24, plateaued for more than a year. But she was driven to reach the 100-lb. milestone, and so she stepped up her workouts, sometimes running as much as 10 miles a day to reach her goal. "Now it feels," she says, "like I can do whatever I want."