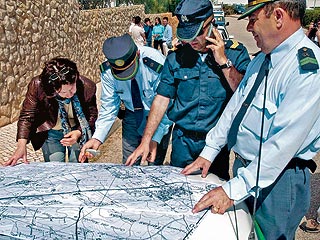 LUIS FORRA / EPA / Corbis
The McCanns and Madeleine have a particular love of sports and the outdoors. Madeleine, who had recently started taking tennis lessons, also doted on her younger siblings. "They were desperate to be parents, and when Madeleine came along they were walking on air," says Jon Corner, Amelie's godfather. "She's an amazing, charismatic child. She's one of those kids who just commands attention." As the days dragged on, the ordeal of awaiting word on their daughter clearly took a toll on the couple. During their public appearances Kate looked drawn and seemed almost on the verge of a breakdown. "Kate's always full of life, full of smiles," says Corner. "You can tell she's going through agony. They are trying to be strong. If they're not strong, they can't continue to battle to find her."
They weren't battling alone. Back in Britain friends quickly mobilized to do what they could from afar to aid in the search. When he first heard that Madeleine had gone missing, Corner, who runs a media production company, went to his office and uploaded home-movie footage of Madeleine to British police and major British news outlets. "At least I thought I was doing something practical," he says. Others organized numerous vigils across Britain. Meanwhile in Portugal authorities devoted 130 police officers, as well as hundreds of personnel from the national guard, fire services and maritime police, to the case and blanketed the region with posters of Madeleine. The effort drew some grumbling from local Portuguese journalists, who suggested that such a huge search would not have been mounted for a Portuguese child. "The disappearance of a child is the same, whatever the nationality," replied an inspector. "The resources are justified the same."