Gerry and Kate McCann had been eagerly looking forward to celebrating daughter Madeleine's 4th birthday on May 12. As it turned out, there were pink balloons released that day for Madeleine, but there was nothing festive about the occasion. The balloon release was instead a symbolic plea for the safe return of the youngster, who had apparently been abducted in the night from her room in the Portuguese resort of Praia da Luz nine days before – leaving her parents swamped under a "tidal wave" of devastation, as father Gerry put it. Fighting back tears, Kate had earlier begged, "Please, please, do not hurt her. . . . Please give our little girl back."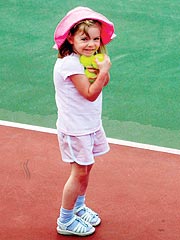 The taking of a child always evokes a shudder of anguish and sympathy. But something about the disappearance of Madeleine triggered a deeper reaction, not just in Portugal and the McCanns' native Britain but throughout the world. Perhaps it was the chillingly sinister nature of the apparent crime, one that tapped into every parent's nightmare. (Although police say they have a suspect, they have yet to identify him.) Or perhaps it was the McCanns' early decision to use the media to keep the case alive in the public's mind. In any event, within days the horror was being played out on cable news and the internet, and a host of celebrities had stepped forward to pledge money for a reward for Madeleine's safe return. Author J.K. Rowling,
American Idol'
s Simon Cowell and Virgin Atlantic founder Richard Branson had all chipped in with substantial contributions, with the result that at press time the fund topped $5 million. Soccer star David Beckham did his part by taping a televised appeal.