Jessica Alba
says her looks can be deceiving.
"People think of me as just a sexy girl," the self-described "dork," 26, says in the June issue of
InStyle
, "but I'm really goofy – like, super goofy."
Not that she's knocking her looks, which first made her famous on the 2000-02 TV series
Dark Angel
. "I had womanly curves at a young age," she says. "Usually kid actors are a few years older than the roles they play. I was two or three years
younger
."
She also owns up to having a strong rebellious streak. "I love challenging authority," she says. "It probably wasn't easy being my parents. The second somebody says no to me is the second I'm going to jump up and say yes."
Still, she'd like to have kids one day, though she says she might adopt because it could take a while to find the right man. "I'm not the easiest person to hang with," she says. "I'm away a lot, and it's an unconventional life. But if I could find a partner, that would be best. I probably won't have kids without one."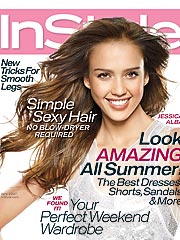 Though Alba
dates Cash Warren
, she admits to a crush on former Tennessee congressman Harold Ford Jr. "He is so cute, he's adorable, and he's single," she says. "I went to one of his fund-raisers."
When she does settle down, she wants it to be for keeps: "My parents taught me about unconditional love, because you have your ups and downs, but you stick through it. I learned a lot from that, and I know that kind of love is possible. ... My parents made a forever commitment, and I know that's what I want."