Déjà vu
Jerry Springer
was back in the house, and he tells PEOPLE it felt as if he'd never left. "I came to give Kym some moral support," Springer, who will host the summer reality show
America's Got Talent,
said of his season-three partner,
Kym Johnson.
So how was it being back at Stage 36? "Just being in the room and going through those same feelings – particularly when you go out there, and just when they are about to announce your name and there's like 30 seconds before you have to dance – ... it was like, 'Oh my gosh, I forgot the steps.' I miss the camaraderie, but not the dancing."
Pacing Is Everything
If the first 10 weeks were a marathon, then tonight was a sprint to the finish, says
Laila Ali.
"I had nerves tonight, but they were good nerves," she adds, while partner
Maksim Chmerkovskiy
pipes in, "It's exciting. We were very anxious." Anticipating the finale, he also says, "But this is what we wanted to do all season long."
Do-Over
"Tonight was a blur,"
Joey Fatone
says of the one-hour performance show. "It's almost like, 'Did we do everything we wanted to do? Could we do the cha-cha better?' It all went so fast." At this stage in the game, Fatone's partner,
Kym Johnson,
says, "It's all about entertaining. It's about the viewers at home and what they think."
Shar Thing?
Shar Jackson,
a Kevin Federline's ex and a star of the upcoming ABC summer show
Ex-Wives' Club,
tells PEOPLE she was inspired Monday night. "I think I want to dance a little bit. Or maybe I want to wear the cute costumes?" she said. "I think I got bit by the bug when I walked in, for sure." And speaking of which, does it bug her that people want to know about her former husband? "Not at all," she says. "Look at us, we are friends. Life's way too short for people not to get along. And he's a great dad."
Dance Demo
During a commercial break, audience warm-up comedian
Bill Sindelar
chose five men to take the floor for an impromptu dance-off (and a chance to win a
DWTS
T-shirt). One of the guys was
Zach Wilson
from Utah – also known as
Julianne Hough'
s boyfriend. Hough didn't know her former fiancé (they broke off their engagement earlier this month but are still a couple) had taken the dance floor. What did floor her was that he had flown in from China, where he's been on a dancing and singing tour for several weeks. "He came here straight from the airport," Hough gushed, giving the handsome 24-year-old a big hug.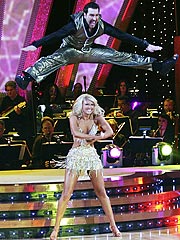 Family Affair
It was a jam-packed audience, full of family members from around the world.
Kym Johnson'
s mom was visiting from Sydney, Australia.
Apolo Anton Ohno'
s father Yuki was in from Seattle. Pro dancer
Julianne Hough'
s family came in from Utah, and
Joey Fatone'
s wife Kelly and daughter, Brianna, were there, too. Usually audience members have to be 16, but the show allowed the 6-year-old to sit in the front row to see dad perform the cha-cha and the freestyle dance. "She was so excited," Fatone said after the show. "She was waving and smiling. She's a big ham. I'm so glad she could see it."
Bust a Move
If you're going to dance to the classic
Young MC
tune, you better do it well – especially when the man behind the music is sitting in the front row!
Julianne Hough
and
Apolo Anton Ohno
rocked the house with their freestyle interpretation of "Bust a Move." "It was an incredible routine. Great stuff. I was jumping up and down," Young MC told PEOPLE. "I was like a young fan screaming 'Apolo!'"
Wardrobe Malfunction
"Dress rehearsal today was awful," laments
Julianne
to PEOPLE. She and partner
Apolo
wore matching satin coveralls that almost didn't stay up. "They were so massive on both of us, they were falling down to our knees so we couldn't rehearse out dance, do any of our tricks. I was almost in tears," she says, noting that the cavalry – a.k.a. the wardrobe department – came to the rescue with some quick tucks, a speedy hem job and last minute sewn-in elastic waistbands.
Last Week's Dancing: What You Didn't See >