(
Video courtesy MSNBC.com
)
The past months have offered tragedy and joy for
Angelina Jolie
.
"This has been a very heavy year, in losing my mom and having a fourth child," the actress, 31, told Ann Curry in a
Today
show interview that aired Wednesday. (The interview will continue Wednesday night on
Dateline NBC
.)
"I suppose I'm very aware of time and of memories and enjoying life," Jolie continued, "not just doing the right thing and being a useful person – which I certainly want to be, and believe that I am."
Recalling her mother, actress Marcheline Bertrand, who
died in January
at age 56 after a nearly 8-year battle with cancer, Jolie said: "I want to be a great mom like my mom was. And I also want to do things that I love."
On Tuesday at the Cannes Film Festival, where she and
Brad Pitt
premiered their new movie,
A Mighty Heart
, Jolie told reporters she plans to
take a year off
from acting to spend time with her family: Pitt, 43, and kids Maddox, 5; Pax, 3; Zahara, 2; and Shiloh, who turns 1 on May 27.
(Jolie
adopted Pax in March
from Vietnam, and recently added a fourth line to the tattoo on her left arm that features coordinates for the birthplaces of all her children.)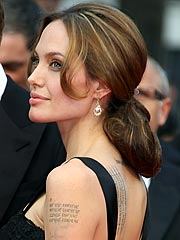 VALERY HACHE / AFP / Getty
"I'm in a strange, I suppose, place in my life," Jolie told Curry. "I think that happens when you lose a parent, where you drop into a different kind of serious. And yet, at the same time, you want to laugh and enjoy as much as possible every day."
To that end, she said, "I'm hanging on to my family really tight at this moment, and, because of that, trying to be as good a woman as I can be in my life." At that point, Jolie broke down in tears. "Dammit," she said, "you got me crying."
Curry apologized, but Jolie, regaining her composure, said, "That's alright. It's part of life. ... I lost my mom. It's a natural thing for a child to lose a parent. I lost my mom too young, but it happened. And I'm happy she's out of pain, because I love her and she's my friend."