America's Next Top Model
winner Jaslene Gonzalez impressed the judges with her spirit – but an abusive relationship nearly crushed her confidence, she reveals in a new interview.
"Before I got into that relationship, I had a good head on my shoulders and walked with my head up high," Gonzalez, 21, says in the July issue of
Seventeen.
"But during that relationship, things went down little by little. It was such a dark moment in my life. It was horrible!"
Because of her situation, "I wasn't having my rest or eating the food I wanted to eat. So I mentally gave up, but I still did what I had to do. I think perseverance is the key to success. There were so many roadblocks for me, but I overcame them all."
Gonzalez appears on the cover and in a six-page fashion and beauty layout in the magazine – part of her winnings, which also included a contract with Elite modeling agency and a $100,000 deal with CoverGirl.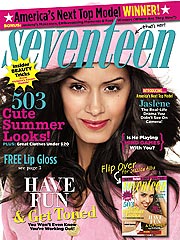 Should others find themselves in an abusive relationship, she says, "I can give so much advice, but it starts within yourself. You need to get help. Talk to somebody, because once you talk about it, you hear it, and then you understand what you're going through. That's what it took for me to let go."
Gonzalez, who last week
attended The CW's upfronts
in New York City, says she gained self-worth from her sometimes challenging experience on
Top Model
: "I couldn't believe how mature, strong, and confident I've grown. I definitely broke down along the way though."