•
Beyoncé
, wishing a fan a "happy birthday" over the phone from the star-studded de Grisogono party at the Eden Roc in Cap d'Antibes, France. After a woman approached the singer – who was at the bash with her beau
Jay-Z
– to confess how much her daughter loved her, Beyoncé happily issued a birthday greeting. Says a source: "She was so sweet!"
•
Sophia Bush,
letting loose from
filming
The Narrows
with an evening of dancing at New York nightclub Stereo with costar
Kevin Zegers.
The actress whirled away, occasionally knocking into fellow clubgoers on the dancefloor. Later in the evening, Bush, sporting a sleeveless white dress with a black scoop neck and black tights, made a slight wardrobe change: She ditched her tights and returned to the dancefloor in black flip-flops.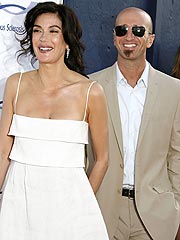 Jeffrey Mayer / WireImage
•
Desperate Housewives
star
Teri Hatcher,
relaxing with boyfriend
Stephen Kay.
After a little shopping, the pair took time for a romantic lunch at West Hollywood's Fred Segal Mauro Café. Teri wore a baseball cap, trendy yellow t-shirt and tight jeans, and the pair shared a veggie plate, fruit plate and sandwiches and a few glasses of white Gavi di Gavi wine.
•
Ashley Olsen,
walking through the lobby of the Beverly Hills Hotel looking like "she was on a mission," an onlooker tells us. The actress was draped in a large red, flannel shirt, mini black shorts, black sunglasses and stacked platform sandals. Adds the onlooker: "She checked her phone and immediately got up and rushed out of the restaurant smiling."
•
Wilmer Valderrama,
partying at West Hollywood nightclub Area with several friends – and a bottle of Grey Goose and Patron. The Actor kept it low-key, sipping a vodka Red Bull and chatting with friends.
• By PAUL CHI, MAUREEN HARRINGTON, MARY MARGARET and COURTNEY RUBIN
Monday's Couples Watch >