New England Patriots quarterback Tom Brady has led his team to three Super Bowl victories – but is he ready for diaper duty?
"It's going to be a challenge," the father-to-be, 29, says in the June/July issue of
Details
. "I guess that late at night, I'm not so much scared as thinking of it as a huge unknown."
Brady is
expecting his first child
this summer with actress Bridget Moynahan, 35 – with whom he
split in December
after three years together.
"I want to prepare for it the way I do everything else in my life," he tells
Details.
"I make lists. I make plans. But being a father is different. I think that people go into it and find out, holy s---, I have no control."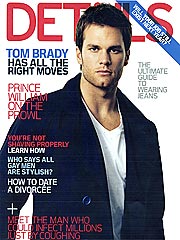 Brady – named one of PEOPLE's 50 Most Beautiful in 2002 – is now dating Gisele Bündchen. "I'm attracted to women who are smart and funny and ambitious and have lives of their own and great families. Isn't that what attracts anyone?" he says.
"People want to go out and travel around and meet cool people. I could just go live in Vermont, but is that what I really want?"
Brady, who often keeps low-profile, has been the center of media attention lately for dating Bündchen while facing fatherhood with his ex. "It doesn't affect anyone but me anyway," he says, "so why is it a big deal?"