Tennis star Andy Roddick may be in great shape, but even he knew something was fishy when he looked at the cover of a recent magazine and saw his biceps looking seriously pumped.
"Little did I know I have 22-inch guns and a disappearing birthmark on my right arm," Roddick, 24, wrote on his
blog
after seeing this month's issue of
Men's Fitness,
which features Roddick with a body that had been artificially bulked up, the
New York Post
reports.
"I saw the cover for the first time when I landed in Rome. It was pretty funny. Maybe [fellow tennis star] Rafael Nadal wants his arms back?"
Reps for
Men's Fitness
told the
Post
that the cover image featured an enhancement of Roddick's arms, and was not a Photoshopped image with Roddick's head on a different body.
But Roddick has more serious things to worry about lately than a doctored photo. The tennis champ, who is currently ranked No. 3, was knocked out at the first round of the French Open on Tuesday.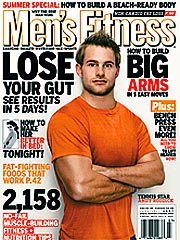 After the game, Roddick told reporters: "There are some positives. I feel a little bit better coming out of this than I have in the past. But at the same time, you know, same result. I think you can try to improve on it, but I don't know if there's a magic answer."