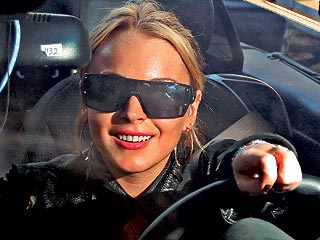 BARNSLEY-THOMPSETT-ANTHONY / PACIFIC COAST NEWS
It may be the last time Lohan – who had planned to celebrate her 21st birthday on July 2 with a blowout at Las Vegas hot spot Pure – is out on the town for a long while. On May 29 her rep confirmed that the actress, who completed a monthlong substance-abuse treatment program in January, had admitted herself to "an intensive medical rehabilitation facility" on Memorial Day. After she checked into the Promises treatment center in Malibu – where Britney Spears recently underwent rehab – friends and family members greeted the news with a mix of relief, worry and guarded optimism. "We are all praying for her," says a Lohan relative, noting that Lohan's mother, Dina, 44, "is doing the best she can." The turning point came three weeks after Britain's
News of the World
ran photos of Lohan allegedly using cocaine in a nightclub bathroom. "We're all happy that she is where she is," says a friend. "Everyone's just been waiting [for something tragic to happen]. All of us thought there would be something soon."
Many are surprised it took so long. Nine years ago, Lohan endeared herself to moviegoers as a freckle-faced child star from suburban Long Island, earning a devoted young fan base in squeaky-clean Disney fare like 1998's
The Parent Trap
and 2003's
Freaky Friday.
But even in those early years, home life for Lohan and her three younger siblings, brothers Michael, 19, and Dakota, 10, and sister Ali, 13, was already gravely fractured: dad Michael, 47, a former financier, spent much of Lohan's preteen years in prison for securities fraud only to face even more prison time as his tumultuous marriage to Dina, a former dancer, crumbled in the years that followed.