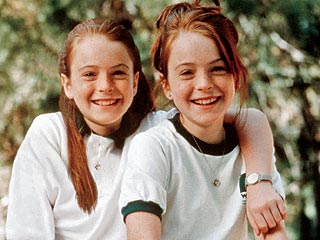 SEBASTIAN LOREY / WALT DISNEY
As their family splintered, Dina served as her daughter's manager, confidante and, as Lindsay entered her teens, frequent companion on Hollywood's party circuit. Along the way, she often raised eyebrows as to whether she was acting more like a girlfriend than a parent. Last month Dina sat close by while her daughter kissed, cuddled and shared a drink with British TV personality Calum Best, 26, at New York City nightclub Tenjune.
In the past, Dina has defended their mother-daughter partying as a way of keeping an eye on Lindsay, but friends question whether that approach has been wise. "Dina's always been like one of the girls, talking about makeup and clothes," says a Lohan source. "Her mom IMs her friends – it's crazy." The source also notes that Lohan, who has been working for more than a decade, has had little opportunity to experience life outside of showbiz. "Lindsay didn't grow up like we all do," says the source. "It's not like she's been away at college, learning to fend for herself. She's never had that experience." Living out of hotels in recent years, "the girl literally can't be alone," says another source. "She loves being out in the spotlight."
Until her recent admission to rehab, that has meant hitting the town almost nightly with a crew that includes "very scenester people," says a source who has been out with her several times. "A lot of nightclub fixtures." Chief among them is Los Angeles deejay Samantha Ronson, 29, who has become one of Lohan's closest friends and was with her during the morning of her arrest. "They're really close," says another source. "If Lindsay needs something, Samantha is always there. She takes care of her."