If co-hosts Joy Behar and Sherri Shepherd looked tense on-camera during last week's
Rosie O'Donnell-Elisabeth Hasselbeck fight
, things were just as awkward for the guests in the greenroom.
"All four of us were at a loss,"
Dancing with the Stars'
Maksim Chmerkovskiy tells PEOPLE of his time waiting out the argument with dance partner Laila Ali and fellow
Dancing
stars Joey Fatone and Kym Johnson. "It was a straight-up brawl."
Chmerkovskiy says the guests had been warned by
View
staffers that the show could get "intense" – and it quickly did. "At first everyone was sort of laughing, [like,] 'See, I told you it gets intense.' Then it was like, Okay maybe it's one of those
very
intense ones. But people were still giggling. But then it became a fight between Rosie and Elisabeth."
What made it particularly shocking? "It was like a domestic dispute, like relatives fighting. We came to their house and we were witnessing something a little embarrassing. It was really uncomfortable."
At the commercial break, Chmerkovskiy recalls stone-faced
View
staffers running out of the room to deal with the fallout. Actress Alicia Silverstone, who was also in the greenroom, was not happy that her segment was next: "She was like, 'I don't want to go on
now
.' She had one of those hyperventilating moments where she was like, 'Okay, I'm really nervous.' "
But the show went on, and Chmerkovskiy and Ali performed their dance without incident. "It was like nothing had happened," he says. "I thought great, this must be a normal day at
The View.
"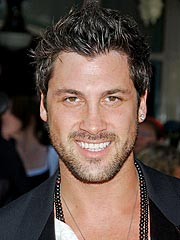 Roger Karnbad / CelebrityPhoto
But, of course, it was not just another day on the chatfest. Sources tell PEOPLE that for all O'Donnell's bluster, she was genuinely upset by the bickering on the day she now refers to as "nuclear Wednesday." She's "definitely hurt by Elisabeth," says a source close to Rosie.
But now that some of the dust has settled, friends say O'Donnell is at peace with the outcome. "She doesn't second-guess her decision at all," says O'Donnell's lifelong friend Jackie Ellard. "In fact, I'm sure she's sleeping better than she has in a long time."
So what's next O'Donnell? Sources say she has been approached by CBS, NBC and even Telepictures – the producer of the original
Rosie O'Donnell Show
– about getting her own talk show again.
For now, she'll go on the road in June with Cyndi Lauper's True Colors Tour, aimed at raising awareness for gay, lesbian, bisexual and transgender rights. And this fall she'll release a book titled
Celebrity Detox
about her struggles with fame. Besides that, O'Donnell plans to spend a lot of time hanging out with [wife] Kelli and their four kids. Says Ellard: "She's incredibly happy."
•
Reporting by DIANE CLEHANE and MICHELLE TAN