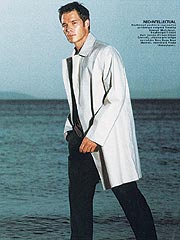 Soon, Sculfor was shooting ads for designers such as Jean Paul Gaultier, but it was a '97 British TV commercial for Levi's – in which Sculfor played a fisherman pawed by three mermaids – that made him a sex symbol in his home country. "He has a wonderful charm," says John Hegarty, worldwide creative director for the ad agency BBH, who cast Sculfor in the ad. "He's intelligent and really good fun to be around. You have to have a pinup when you're selling a fashion product, but you want some depth behind it, some character there. He definitely had that."
Interestingly enough, Hegarty happens to be the man who also cast Aniston's ex-husband Brad Pitt in a steamy Levi's ad back in 1991. "He's very easy in front of the camera," he says of Sculfor. "There's a sort of air of insolence, a certain arrogance that makes him kind of interesting. Yet he's lovely – absolutely charming." Women seem to agree. In 1996, Sculfor began a two-year relationship with fellow British model Lisa Snowdon. "She's beautiful," he told
The Mirror
. "I go for girls with dark hair."