Eddie Murphy has finally taken a DNA paternity test to determine whether he's the father of "Scary Spice" Melanie Brown's 2-month-old daughter, sources tell PEOPLE.
Murphy, 46, took the test on Monday at a Beverly Hills medical facility. "Eddie came in half an hour after Mel B. and the baby," says a source. "They didn't want to run into each other."
Results of the test could take anywhere from five days to three weeks.
Brown, 32,
welcomed the baby
, Angel Iris Murphy Brown, on April 3, and has long insisted Murphy is the child's father.
She and the comic dated last summer, but in December Murphy
told a Dutch TV show
of Brown's pregnancy: "I don't know whose child that is until it comes out and has a blood test."
In March, Murphy's current girlfriend, Tracey Edmonds, told Chicago's Power 92 radio station: "There'll be a paternity test and if it's [Eddie's] then he'll be responsible."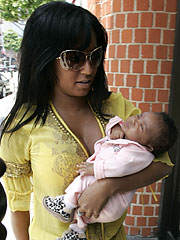 But last month, Brown told PEOPLE Murphy had refused to take a paternity test and said she was planning to
take him to court
to force him to do so.
She also said Murphy also had not contacted her since Angel was born: "He hasn't seen his daughter. My people have contacted his people and they just had no response to anything."
When reached for comment by PEOPLE, Murphy's rep, Arnold Robinson, said at the time: "We do not comment on Mr. Murphy's personal life."