My December
What:
Kelly Clarkson
's third album of original rock tunes
When:
In stores June 26
Highlights:
Clarkson isn't one to let backstage
industry drama
upstage her new album
My December,
which packs in lots of rock 'n' roll grit. Take the first single, "Never Again," where she
pulls an Alanis
and sings to an ex: "Bet it sucks/ to see my face everywhere/ It was you who chose to end it like you did." The moral? Don't wrong Clarkson and expect her to keep quiet!
Hey Paula
What:
Paula Abdul
's personal docudrama following her around the country and off the
American Idol
set – unscripted!
When:
June 28, 10 p.m. ET on Bravo
Highlights:
Abdul is a loose cannon – from
leaked meltdowns
to
run-ins
with her pooches. Straight-up translation: Expect the unexpected.
A Mighty Heart
What:
In
Angelina Jolie
's latest film she plays
Mariane Pearl,
wife of slain
Wall Street Journal
reporter
Daniel Pearl.
When:
In theaters June 22
Highlights:
Portraying a real person – and a personal friend – in crisis can be tough, but Jolie tells PEOPLE that the film's message is what matters to her: "If there's one message in the film, it's to find common ground, not just the things that divide us."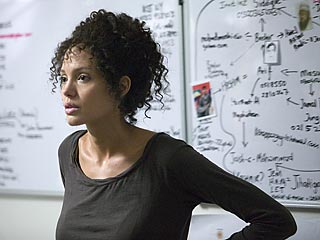 PETER MOUNTAIN / Paramount Vantage
Shaq's Big Challenge
What:
In his reality show, NBA star
Shaquille O'Neal
offers six kids a chance to score in the health department – by helping them lose weight. And Shaq recruited celebrity chef
Tyler Florence
to pitch in, too.
When:
June 26, 9 p.m. ET on ABC
Highlights:
Can the basketball champ become a star coach? He's sure on message, telling PEOPLE, "I want to get people aware that childhood obesity is killing our kids." See a clip from the show
here.
Picks of the Week
Movies:
(in theaters June 22)
Evan Almighty,
starring
Steve Carell, Morgan Freeman
and
Lauren Graham
Carrell talks candidly to PEOPLE about working with animals: "The snakes that you see in the movie are CGI'd [computer-generated] because the
real
ones kept crawling down the back of my jacket."
Music:
(in stores June 26)
Ryan Adams
's
Easy Tiger
.
Writes PEOPLE's critic Chuck Arnold: "On "I Taught Myself How to Grow Old" he schools the competition on how to make a heartbreakingly beautiful ballad."
• Also out:
Beastie Boys
's
The Mix-Up