•
Claire Danes
and
boyfriend
Hugh Dancy,
strolling and shopping in downtown Manhattan. The actress stopped into the SoHo day spa Haven, then met Dancy in the Apple store. Think they were picking up a coveted iPhone?
• Recent Tony nominee
Ethan Hawke,
walking along the Santa Monica beach with a blonde female friend. The two enjoyed a leisurely chat while taking in the sunny day. But Hawke made sure to practice down-home sun safety: He wore a big, black cowboy hat and an oversized red plaid shirt with khaki shorts.
• Her (former) beaus have
cheered her
from the stands – now it's
Mandy Moore
's turn. The singer arrived at Hollywood's Hotel Café to support her current boyfriend, singer-songwriter
Greg Laswell,
during his recent concert. After his set, Moore casually chatted with Laswell, his friends and family. And an onlooker tells us: "She looked adorable." Aww!
•
Christie Brinkley,
attending the screening of
In the Shadow of the Moon,
a documentary about the Apollo lunar missions, in Southampton. Brinkley, sporting a blue gingham Ralph Lauren dress, told us she was looking forward to celebrating July 4, although, "the fireworks are going to happen out here on the 7th." Following the screening, Brinkley headed to a post-film dinner at Southampton restaurant Savanna's. Also attending the screening:
Barbara Walters,
who was drinking from a long straw and nibbling popcorn in the audience.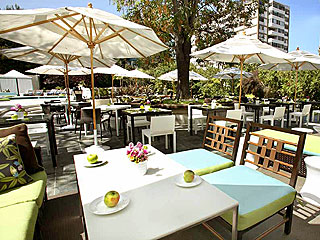 • We love the '80s! And so does
Grey's Anatomy
's
T.R. Knight,
who was rocking out with
Martin Gore
(of New Wave luminaries Depeche Mode) during
Cyndi Lauper
's True Colors tour at L.A.'s Greek Theatre. A fellow concertgoer says the actor, who was really getting into Erasure's set, seemed to know all the lyrics as he sang to the music. Meanwhile, another of the decade's icons,
Aidan Quinn,
recently perused a script over breakfast at the Backyard Restaurant in the W Los Angeles. "His blue eyes still had their same hypnotic effect as he peered up while reading his script," says an onlooker, adding, Quinn is "still extremely sexy."
• By BRYAN ALEXANDER, LISA INGRASSIA, BRENDA RODRIGUEZ and JEFFREY SLONIM
Tuesday's Caught in the Act >