For Katharine McPhee, the prospect of becoming a mother one day is a big deal. A very big deal.
"I want to have, like, 15 babies," the
American Idol
singer, 23, says in the August issue of
Stuff.
"I've always wanted to be pregnant."
She continues: "One year for Halloween, I decided to be pregnant, so I got this nun costume, and I put a big belly under it. I showed my parents and said I want to go to school as a pregnant nun."
Her folks didn't panic. "My dad sat me down," she recalls, "and said, 'Katherine, you can't!' "
The California native, who caused an epidemic of McPhever when she was on
Idol,
says she was always popular with the opposite sex. "I was prematurely developed," she says. "As a freshman, I looked like a junior; I had boobs. Some of the older kids saw me in the yearbook and said I was cute. I came from an all-girl school. I was determined to get a boyfriend!"
Her current beau, stage performer Nick Cokas, is nearly 20 years her senior – and she says she's got a thing for older men: "When I turned 21, I thought it was a good age to explore. You're no longer a teenager, so it's okay [to date older guys]. I gravitated toward them, and I love them. They're just wiser, and they're less about themselves and more about you."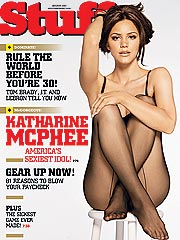 Asked what younger men should know about women, she replies: "Women sometimes act out, and men get frustrated. They don't get that all we want is, for a few seconds, for you to be all about the girl – to snuggle her and give her kisses and tell her, 'Your lips are so pretty today. I love your lips.' "
And she practices what she preaches. "For me, with men, I will fixate on something. I'll say, 'I'm obsessed with your chin.' I'll kiss his chin and munch on it, and I think that makes people feel good."