•
Adrian Grenier,
celebrating his birthday (a day early) at a pal's eco-friendly beach house in Malibu. The
Entourage
star – who turned 31 on July 10 – partied with childhood friends from high school and his girlfriend, and the group spent the day boogie boarding and playing volleyball on the beach. Meanwhile, the night before, a more covered-up Grenier hit the dance floor at L.A.'s Ritual Supper Club for the official
Entourage
wrap party.
Jeremy Piven
mingled on the outdoor patio, while
Kevin Connolly
hung out with the guys before taking off at midnight.
•
Jared Leto,
having a tea party (of sorts) at the Tea House on Melrose. The singer-actor was casually dressed and low-key, sipping tea on the back porch with two female friends. "He was relaxed and chilling," says a fellow tea-imbiber. "He looked sooo cute!"
•
Kim Kardashian,
locating the caffeine at the opening of Ibiza nightclub in Washington, D.C. The celebutante ordered some tea from Starbucks (yes, the nightspot has its own Starbucks) and sipped Red Bulls. Why? Guests tell us she confesses to drinking alcohol only twice a year (on her birthday and New Year's.) As for the music, well, that was provided by
DJ AM
who spun tunes like Khia's "My Neck, My Back."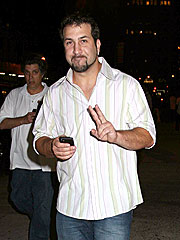 Ahmad Elatab-Jackson Lee / Splash News Online
•
Singing Bee
host
Joey Fatone,
scoping out the scene at Butter in New York along with wife Kelly. The former 'N Syncer stuck around for a half an hour before sneaking out at 12:45 a.m. Just after Fatone's exit, though,
Wilmer Valderrama
rolled up, exiting a black SUV with a posse of male friends just before 1 a.m. Getting into the music (bopping his head to music by Ne-Yo and Rich Boy) and the bar scene (throwing back shots) the
Yo Momma
star showed off his hip-hop moves in the center of the dance floor.
• As a run-up to the MLB All-Star Game in San Francisco, the stars came to party at the Crown Royal Playboy Lounge (at The Galleria at San Francisco Design Center).
Alyssa Milano
held court on a private couch in the VIP area with new friend (
Curb Your Enthusiasm
star)
Jeff Garlin
. The two buddied up while co-hosting the All-Star celebrity softball game the day before. Soon, though, Milano found company in
Russell Martin,
the hunky catcher for the Los Angeles Dodgers, and they were inseparable for the rest of the evening. Elsewhere at the bash,
Jonathan Silverman
hung out with pals on the back patio. There, the comedian revealed to us that he had just wed girlfriend
Jennifer Finnigan.
"We got married in Santa Ynez in Santa Barbara," he told us, adding, "Then we went to Greece ... [and] honeymooned in Spain."
• By MARK DAGOSTINO, JAMIE FROEHLING, JENNIFER GARCIA, TIFFANY HOPKINS and ELIZABETH LEONARD
Tuesday's Caught in the Act >