NASCAR champ Jeff Gordon is an ironman on the racetrack. In the delivery room, it's another story.
"The baby came out, and we're both crying – in shock – and then you hear her cry for the first time," Gordon said Monday on ABC's
Live with Regis and Kelly
about the birth of his daughter, Ella Sofia Gordon, with Belgian model-actress wife, Ingrid Vandebosch.
"I look over and I'm like, 'Honey, how are you?' "
Ella was
born on June 20
, and Gordon and Vandebosch released new photos of her on Monday. "A good friend of ours took those pictures," Gordon explained. "They turned out fantastic."
It's only been a few weeks, but Gordon, 35, a first-time father, says parenthood has already changed him. "It's all I want to talk about now – just about babies, about kids," he said, adding that he has "a whole new respect, not just for parents, but especially for moms."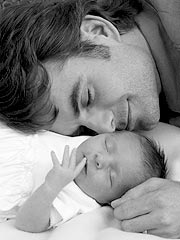 Kelly Ripa teased Gordon about whether his competitive instincts made it hard for him to be in the delivery room, where he could provide emotional support but little else.
"No competition when it comes to that," he said, but added: "My emotions were just all over the place, because I was kind of helpless. She's having the baby, and there's nothing I can do except get the doctors. ... I'm sure that was very helpful, though."
Gordon and Vandebosch met in 2002 and began dating in 2005. They
wed in November 2006
in Mexico and announced the pregnancy in December on Gordon's
Web site
, saying, "Christmas came early for us."
Shortly after Ella's birth, Gordon added a new message to the site. "It's been an absolutely incredible experience," he wrote. "Ingrid came through amazingly and we're both really happy and overjoyed. We can't wait to get home and start our lives together as a family."