Her sister
Ashlee
has
talked about plastic surgery
– and now
Jessica Simpson
says she won't rule it out.
"I've had none," she says in the August issue of
Bazaar.
"But maybe after having kids, if my boobs dropped down to my belly button, I would get them lifted. ... Maintenance. But you know, my boobs are real."
Right now, however, she's fine with her looks. "I love the bump in my nose," she says. "People have said that I've had things like a jaw replacement or implant or something. I'm photographed every day of my life and have never worn any bandages or anything, so how could that be right?"
One thing that has changed is her body, as she prepares to
join the Marines
in her upcoming movie,
Major Movie Star.
"I've started with a trainer, Harley Pasternak," she says. "He's given me a butt, because I have white-girl syndrome. I have to do as many squats as I can to get a little booty. ... I have to be [diligent]. I'm a curvy girl. You don't want to see me not working out."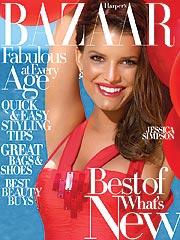 But she's fine with her curves – and she thinks guys are too. She recalls attending a recent fashion party with her friend and hairstylist Ken Pavés and asking him, "Do you think the guys in here are all really looking at all those skinny girls and thinking, Wow, I want to get with her? Or are they looking at the girls with the curves and thinking, Yeah, I want to get with
her
!"
Simpson, for one, knows where she stands. "Curves are better," she says. "I don't get the whole rail thing. It's not good for your heart, it's not good for your mind; it's emotionally destructive, it really is."