It's one thing to announce the
Emmy nominations
. It's quite another to get them.
But that's what happened Thursday shortly after 5:30 a.m., when Kyra Sedgwick and Jon Cryer both read and received.
Doing her TV Academy duty of revealing the top nominees, Sedgwick, who wound up in the running for leading actress in a dramatic series for
The Closer
, saw her name suddenly flash on the Teleprompter – and couldn't prevent her mouth from dropping open on camera.
"It was kind of awful to have that kind of reaction," she told PEOPLE, explaining that she'd been through a rehearsal of the read-through, only her name had been omitted from that. (It helped that there was a tie in her category and there were six nominees instead of the usual five, so her name could be dropped from the list at first without her being any the wiser.)
With her series now in production in Los Angeles, Sedgwick has a 10 a.m. set call Thursday. "I told them I might be able to do half a day," she said. Of her nomination, Sedgwick says, "It's already such a win for me. It's such a gift to be on this show."
As for celebrating her nomination, Sedgwick's husband Kevin Bacon "is in New York," she says, though she "hopes to reach him later."
Come tonight, "I think I might go have a nice dinner and some champagne," Sedgwick told PEOPLE – adding that she doesn't expect any fanfare from her two kids. "They don't care much about this stuff."
As for Cryer, right after he learned of his nomination, the
Two and a Half Men
star was joined onstage by his
wife of one month
, TV journalist Lisa Joyner.
"I was shocked," Cryer told PEOPLE about his nod as outstanding supporting actor in a comedy series. "I saw [my name] come up on the prompter first and I couldn't believe it." (He also tried to call his costar and fellow nominee, Charlie Sheen, but was unsuccessful.)
Joyner told PEOPLE, "I think we'll celebrate with a nice dinner tonight."
Among the other reactions from nominees:
Jaime Pressly:
Outstanding supporting actress in a comedy for
My Name Is Earl
: "It's very surreal to be laying here in the Bahamas overlooking the amazing view and have my [newborn] son on my chest asleep and to find out that I got nominated – it's pretty great. They say babies bring good luck, so who knows, maybe he will bring me luck. He already has."
America Ferrera:
Outstanding lead actress in a comedy for
Ugly Betty
: A bunch of people from the show got together and we watched it together at one of the writer's homes. We got up at 4:30 a.m. We had coffee and coffee cakes and Mimosas. It's not every day you get nominated for an Emmy, so it's worth waking up at 4:30 in the morning.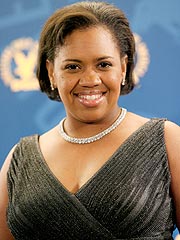 Chandra Wilson:
Outstanding supporting actress in a drama for
Grey's Anatomy
: "The phone was ringing. I had it on silent, and it was vibrating. I immediately assumed it was for the show, and it was an individual nomination. I love that the main thing about our show is that we've got some really great actors doing some great work. So I love it when we get multiple acknowledgements."
Aida Turturro:
Outstanding supporting actress in a drama for
The Sopranos
: "I'm just happy because [the cast] will all get to go together. We were so close and I miss everybody. So it's great – we're all going to the show and we get to see each other. That's the most exciting thing. I feel extremely lucky and privileged. There are so many people out there who are good who never get acknowledged."
Jenna Fischer:
Outstanding supporting actress in a comedy for
The Office
: "This is huge to me. I am beyond excited. I don't know where to begin. Well, for one, it gives me a good excuse to try high heels again." (Fischer
injured her back
falling down a flight of stairs while wearing heels.)
Tina Fey
: Outstanding lead actress in a comedy for
30 Rock
: "This is an outrage."
Alec Baldwin
: Outstanding lead actor in a comedy for
30 Rock
: "I'm grateful to be nominated."
Masi Oka
: Outstanding supporting actor in a drama for
Heroes
: It's certainly a much better way to start my morning than yesterday when I spilled hot tea all over myself. I couldn't be happier and more thrilled."
•
Reporting by LIZA HAMM and LISA INGRASSIA