Authorities on Thursday released the 911 tape that led to
Lindsay Lohan
's second
DUI arrest.
The call, released by the Santa Monica City Attorney's office, was presumed to be made by Michelle Peck, the mother of one of Lohan's assistants, who had picked up her daughter from a gathering that Lohan also attended.
The caller seemed frantic and claimed she was being chased by an SUV. Below is a portion of the transcript. (Listen to the call at
TMZ.com
.)
911:
Santa Monica Police, what's the emergency?
Caller:
Yes sir, I'm on Montana. Is he behind you? Is he behind you?
911:
Where are you?
Caller:
Right now we're on 7th and Wilshire. We were just about to park our car, we were turning home, and out of nowhere, a huge white GMC came up and... We're at 4th and Wilshire, we're coming down right now, we're being followed by a white GMC, the gentleman jumped out of the car, and OH MY GOD SIR, THEY'RE FOLLOWING US. WE NEED HELP.
911:
Where are you?
Caller:
Right now we're on Arizona... Oh my God, are they following us? OK, right now we're on Santa Monica... We're driving to the police station right now... We're at 4th and Broadway. We were just coming home... and all of a sudden he came down a side street... We're driving to the police station... sir, please? The gentleman came out of his car. [inaudible] AAAAHHH, Oh my God! What is he doing? Oh my God, oh my God... Go! Go! Go! Go! Go! (Screaming...police sirens in background).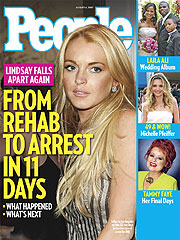 As PEOPLE reports in its latest cover story, the 911 call came in after an argument between Lohan and her assistant Tarin Graham, Peck's daughter. Graham then apparently called her mother to pick her up, and Lohan gave chase.
Police arrested Lohan early Tuesday morning on suspicion of driving under the influence, driving with a suspended license and cocaine possession, after finding a small amount of the drug in her pocket during a search. Lohan was released later that morning on $25,000 bail, and she's due be arraigned Aug. 24.
Lohan has remained out of sight following the arrest. In a statement, her lawyer, Blair Berk said the actress had relapsed and is now "receiving medical care."