The Two Coreys
What:
Former teen idols
Corey Feldman
and
Corey Haim
share a house for their new "scripted reality" series.
When:
July 29, 10 p.m. ET on A&E
Highlights:
"I'm just ecstatic to get a second chance," Haim tells PEOPLE. The now-sober '80s icons team up once again, and this time they have to live together. Will this top
License to Drive
?
Six Degrees of Martina McBride
What:
Country superstar
Martina McBride
plays talent scout on this new special.
When:
July 30, 9 p.m. ET on ABC
Highlights:
Six country music hopefuls from across the country are given a chance to get a record deal. The catch? They can only rely on connections and talent to get in touch with McBride.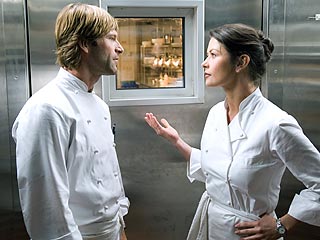 No Reservations
What:
Catherine Zeta-Jones
and
Aaron Eckhart
are chefs with an appetite... for romance. (Spicy!)
When:
In theaters July 27
Highlights:
Zeta-Jones faces several challenges in her new flick: Her character has to take care of her niece (
Abigail Breslin
) and run a restaurant. Can she take the heat? Off-camera, at least, Zeta-Jones tells PEOPLE that cooking isn't exactly her forte. "I have somebody who does come in and help me from time to time," she says.
True Beauty
What:
Former
American Idol
contestant
Mandisa
releases her debut album.
When:
In stores July 31
Highlights:
Writes PEOPLE critic Chuck Arnold: "Her inspirational first CD is certainly a lot more spirited than Taylor Hicks's debut."