Sarah Jessica Parker
is excited about turning
Sex and the City
into a movie, but admits slipping back into Carrie's stilettos won't be easy.
"I used to spend 18 to 20 hours a day filming in heels," Parker tells the British edition of
Elle
in its September issue. "Now I spend a much shorter day in them and I'm, like, 'Owww!' I've really destroyed my body by running and dancing in heels. My knees are shot."
And about those heels: All of Carrie's clothes and accessories, she says, are "archived and stored like museum pieces. They're in a temperature controlled vault."
Since the HBO show ended in 2004 and then went into syndication, Parker has also gone cold turkey on the series's trademark Cosmopolitans. "I don't drink much of anything. I'm the designated driver," she says. "I like a good Cabernet, but I never drink a hard cocktail. I've had many Cosmopolitans sent across when I'm in bars, but I always think, 'God, if I can get this in a bottle, I could clean so much stuff at home.' "
Of the
Sex and the City
movie, she says: "Every time they bring up the movie, I'm, like, oh it's a grand idea. I think the timing is more fortuitous now." Parker and her three female costars have not been in the same room since filming on the TV show ended – "our lives are so geographically disparate now," she says – but they e-mail "all the time."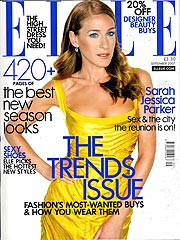 In the
Elle
interview, Parker declines to answer whether she'd like more children (son James Wilkie is 4), but she says that she and husband Matthew Broderick are "very happy."
Parker met Broderick when he was directing a play starring her brother. "It's funny because I never used to go to the movies a lot, but I had paid to see all his films before I'd ever met him. I said to him recently that I always thought he was a great actor, but I never thought for a second that I would meet him, let alone date him. We just celebrated our 10th wedding anniversary, and we've been together for 15 years."