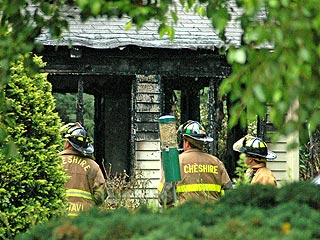 The tragedy began with a chance encounter. On July 22, police have confirmed, the suspects happened to spot Jennifer and Michaela at a Stop & Shop in Cheshire, where they were getting into a white Mercedes. They followed the pair to the Petits' comfortable four-bedroom home. "They liked the house and figured there was money there," says Bill Petit's father, William Sr. That evening Bill, a prominent endocrinologist, and Jennifer enjoyed a dinner of pasta with homemade tomato sauce whipped up by Michaela; afterward the girls read Harry Potter before going to bed. At 3 a.m. Hayes and Komisarjevsky allegedly returned and got into the house through an unlocked cellar door. Once inside they attacked Bill with a baseball bat, knocking him out. They then tied the three women up, with Hayley and Michaela apparently lashed to their beds. After that they managed to walk Bill, bound and groggy, down to the basement. With him out of the way, they allegedly went back upstairs. According to the state's attorney, Hayes raped Jennifer, and Komisarjevsky sexually assaulted young Michaela.
At 9 a.m. one of the suspects – reportedly Hayes – drove Jennifer to the bank and waited for her in the car. When shown the slip of paper from Jennifer, the bank manager sum­moned police, who turned up in force in minutes. The police raced to the Petit home, but by the time they arrived, it was too late.
As they pulled up, Hayes and Komisarjevsky were coming out. They had apparently spread gasoline around the beds of the two girls and set them afire in a seeming effort to cover up the crime. Police quickly nabbed them after they had rammed three patrol cars trying to get away. But before cops could enter the house, it was already engulfed in flames. Meanwhile Bill had awakened to the sound of his wife screaming for her life. He managed to untie his hands and escape from the cellar by the outside door. "He couldn't undo his legs, so he hopped his way up the stairs and into the yard," says William Sr. His wife and daughters were not so fortunate. Authorities found Jennifer, who had been strangled, along with Hayley and Michaela, who died of smoke inhalation while tied to their beds. "Five minutes earlier, and they could have saved everyone," says William Sr., "but that's not the way it worked."