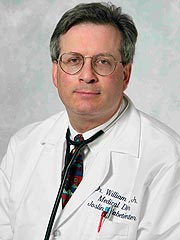 Their awful deaths were in stark contrast to the grace with which they lived their lives. Bill and Jennifer had met at a hospital in Pittsburgh, where he was a medical student and she was a nurse. On July 28 Bill, bruised and stitched up, spoke at an overflowing memorial for his lost loved ones. He described how he had tried to show off with Jennifer by demonstrating how to take a patient's blood pressure, only to have her gently correct him. Even then, he recalled, "She knew more about how to take care of kids than I ever would."
Eight years ago Jennifer had been diagnosed with MS, but she never complained. She had been working as the school nurse at the private Cheshire Academy, where she was known as almost a surrogate mom for the students. Says fellow nurse Debra Bonds: "She only saw the good in people."
Her daughters were from the same mold. From the time she was very young, Hayley had wanted to follow her parents and go into medicine. In a recent essay for college she had spoken of how she idolized her father and his "amazing godlike powers to heal."