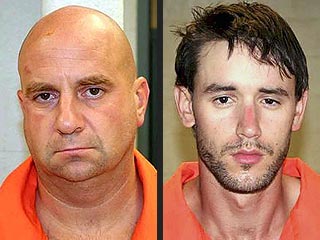 Connecticut State Police / AP
Through participating in walkathons, she had raised $55,000 for MS research and had even formed a team called Hayley's Hope. This fall she was about to realize a dream and begin studies at her father's alma mater, Dartmouth. Meanwhile Michaela – nicknamed "Kay Kay" – was just coming into her own. A vegetarian, she had a passion for cooking and the Food Network. As her father, choking back his tears, said at the memorial service, "She was a wonderful little girl who was going to grow up to be a beautiful woman."
As for the two suspects, both have extensive rap sheets. Hayes, who grew up in nearby Winsted, Conn., has a criminal record, with 26 prior convictions, including burglary and weapons charges, stretching back to 1980. Lately he had been living with his mother in a down-at-the-heels condominium. Komisarjevsky, though, comes from a relatively privileged background. His Russian grandfather and grandmother had been prominent figures in dance and the arts. Adopted as an infant, Komisarjevsky had been raised in Cheshire, where his family owned a good deal of property. By the time he was 14, however, he was already in trouble with the police for burglary. By his early 20s, he had become increasingly brazen in his methods. At a sentencing hearing in 2002 after Komisarjevsky was convicted of burglary, the prosecutor pointed out that in contrast to most burglars – who commit their crimes during the day in order to avoid encountering home­owners – Komisarjevsky worked at night, sometimes listening to his victims sleep. He even used night-vision goggles to aid in his crimes. At that same hearing, Komisarjevsky's attorney cited drug problems and alleged molestation – by foster kids his family had taken in – as mitigating factors. Nevertheless, the judge pronounced Komisarjevsky a "calculated, cold-blooded predator."