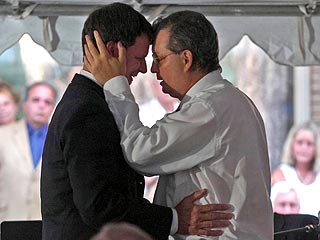 Richard Messina / The Courant / AP
There is some evidence that Komisarjevsky at least entertained the notion of going straight. An unidentified woman, who said she had been a friend of his, provided letters to CNN he had purportedly written from prison in which he talked of becoming a real-estate developer and being able to provide for his daughter, now 5. But he also worried about his "criminal demon" derailing his dreams.
Amid an outcry, Connecticut officials have promised to investigate how they could have been let out on parole and to reform procedures if necessary. But in the meantime, the two suspects, who police confirm have confessed, have been charged with multiple counts of murder and kidnapping and are facing a possible death penalty. While the prospect of severe punishment provided comfort to some people, some friends of the Petits preferred not to dwell on that aspect of the tragedy. "It makes you want to give up on a world where this could happen to people like this, but then you realize they would not want us to give up," says Deb Hereld, who was a friend of Jennifer's. "If this happened to somebody else, they would be the people in the front, comforting, organizing help and just being there on a personal level. You don't meet many people like that in your life; you just don't."
• By Bill Hewitt. Reported by Nicole Weisensee Egan in Philadelphia and Judy Rakowsky, Lucia Greene and Molly Lopezin Connecticut