Wynonna Judd has endured a lot in her lifetime, but little prepared her for the "disbelief and shock" she felt last March, when husband D. R. Roach, 49, was arrested while at Shades of Hope rehab center in Texas and eventually indicted on three counts of aggravated sexual assault and battery against a minor under the age of 13.
"My first response when it happened was, I am a mother first and foremost," Judd, 43, tells
Ladies' Home Journal
in its September issue (on sale Aug. 14).
In the remarkably frank interview, the country singer (who is the daughter of singer Naomi Judd and half-sister of actress Ashley Judd) says that although she is in the grieving period over her marriage she did not feel duped by Roach.
"I knew what I was getting into and I tried to change it," says Judd, who also still attends Shades of Hope to deal with her food addiction. "I knew that both Roach and I had issues with addiction when I married him. I know my life. I know the people I chose, I know why I chose them and I really thought that I could change people through loving them enough. It doesn't work that way."
She warns, "And all you women out there who say love can change anything? You know what it can do? It can get you in a lot of trouble." As for where she is in her life, she says, "I'm now focused on saving myself and the children."
Judd's first marriage, to businessman Arch Kelly III, produced two children, Elijah and Grace. The couple divorced in 1998. When she married Roach, in 2003, his son Zac joined the family. Right after her husband's arrest,
Judd filed for divorce
, which, she says, "blew the door open to my soul."
Yet, she still wears her wedding ring. "It is hard to detach overnight," says Judd. "I'm healing in my own time. And so I do wear my ring. And I think what I'm teaching my kids is, This happened. This is where Mom is right now. And there's always hope."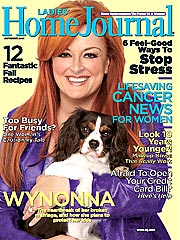 Asked if she means there is hope for her relationship with Roach, she responds, "I can't answer that. I just can't. And I don't have to right now." But she does claim to be gaining a healthier perspective "on what my needs are and what I need in a healthy relationship. My heart does not give up easy in terms of having hope."
Her mother and sister, she says, have been of great support during this crisis. "What's so nice about where I'm at is I did at times in my past tend to rely on Momma calling me and my sister calling me. I really went through a period where I wanted Ashley to call me and invite me over for dinner and I realized, What are you doing? Why are you waiting on other people to make you happy?"
And to those outside the family, she says, "If the fans are worried about me, don't be. In this moment, this heartbeat, this breath, I'm okay. Everything's not all right, but I'm all right with everything. And when you surrender – that's where I live right now ... in that serenity."