Her relationships with husband Chris Robinson and ex-boyfriend
Owen Wilson
now behind her,
Kate Hudson
says she's ready to face the dating scene as a single mom.
"Dating becomes very different," the actress, 28, tells
Harper's Bazaar
for its September issue (on sale Aug. 21). "You realize after you have had children that you'll never love anything more than your child. ... So it makes the new sort of single-mom dating process very different. It's like growing up. It's adult."
Hudson is mom to 3-year-old son, Ryder, with Robinson.
Since splitting from Robinson, the actress has dated Wilson, her
You, Me and Dupree
costar, but the relationship
ended in May
. Last month, Hudson was
spotted
with
Punk'd
star Dax Shepard in Southern California and have been linked since a shirtless Shepard escorted Hudson to dinner in Malibu.
But Hudson says she is still learning about romance. "A friend of mine said the greatest thing to me," she tells the magazine. "When it comes to relationships, unfortunately you've just got to be a grown-up. It doesn't mean you can't make mistakes; it doesn't mean you can't be a kid. ... But when it comes to the work of it, you just have to grow up... And when you do the work, it provides so much more room to be silly and make mistakes again."
Hudson says she doesn't consider her nearly six year marriage to Robinson a mistake – but says divorce is "really, really hard."
"For both Chris and me, our main focus is, and was, Ryder. And happy parents, happy baby," she says. "Therefore, I love Chris to pieces."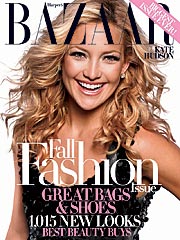 Of her ex, she adds, "He's my first huge love. I spent seven years with Chris. I was 20 when I met him. We still talk everyday. He still cracks me up. And Ryder feels that."
Still, when it comes to the prospect of getting married again, "I don't know. I checked that off my list of to-dos. And I can check off divorce," she says. "The idea of marriage, I realize now, no longer holds the answer to anything."
That is not to say, however, she wouldn't want to have more children. "I'd love to have more kids," she admits. "Of course. I've always wanted to have a lot. My dream is to have four."