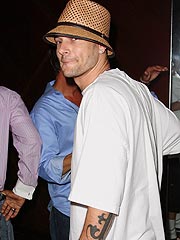 As if the paparazzi evidence wasn't enough, several former employees have surfaced with alarming stories about Spears's home life. One woman who worked as a nanny for Spears earlier this year tells PEOPLE, "She's very loving with the kids, well, when she's around and awake. When I was with her, she was out partying a lot, and she would wake the kids up when she got home at 3 in the morning because she wanted to see them. Then she would sleep in until 1 in the afternoon. It would make my night awful because I would have to try and get them back to bed."
A source close to Spears insists that "she's going out when [the kids] are with Kevin. She's not going out and partying on nights when the kids are with her because there would be nobody to stay and watch them." At the moment Spears doesn't have a nanny – and doesn't want one. "She has two kids under the age of 2 who are doing okay and Britney wants to be that hands-on mom," says the source.
For all the love Spears has for her children, the pop star is "an inexperienced parent," concedes a family friend. "She doesn't have people around her to guide her in being a mother." Adds another source: "Her circle is quite small right now. No Mom. She's out. Same with Dad." In fact, her mother, Lynne, 52, has been spending time with Federline since falling out with her daughter earlier this year. "Lynne was ready to file herself and exercise her grandparent's rights," says a source close to Federline. "She really lit a fire under his feet. If Kevin gets more time, Lynne will too."
When the kids are with their father at his house in Tarzana (he has them three days one week and four days the next), "Kevin has a wonderful nanny who cares deeply for the children," says a Federline friend. "Sean and Jayden often play with Kori and Kaleb [his children with Shar Jackson]."