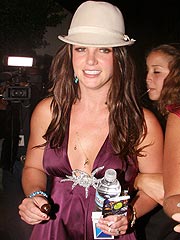 As gasp-worthy as Spears's behavior has been, is it enough for a judge to rule that Federline is the better parent to have primary physical custody of the kids? Perhaps not. "A judge is looking at who is acting appropriately and inappropriately only as far as parenting is concerned," says Beverly Hills family attorney Neal Hersh, who is not working on the case. And even Federline's lawyer says that Spears, at this point, is not in danger of losing access to her children. "[Kevin] wants them to have a good relationship with both parents, but he wants them to be in the best possible environment," says Kaplan.
In the wake of the custody filing, observers have also questioned whether Federline – who released a much maligned rap album last year and has dabbled in acting – wasn't financially motivated. "He's not a saint," says a source who knows him. "And he does need more money for things like security, his mortgage."
Says Kaplan, his lawyer: "I can tell you unequivocally that this has nothing to do with finances. Kevin has never made finances a link to custody." Spears will have a chance to make her own allegations when her legal team files papers, likely in the coming days, responding to Federline's request. He then has a chance to respond to Spears's papers. "This could go on for years," says Los Angeles attorney Vicki Roberts.
With subpoenas flying and both sides hunkering down, "The whole thing, how it is working out, is saddening," says Federline's sister-in-law Alisha Federline. "He just loves his kids and that is pretty much what it takes to be a good dad. To love your kids and make sure they have everything they need." As for Spears, "Britney needs to calm down and get with the program, but she's a good mom who loves her kids very much," says a friend of the singer's. "This will be a tough battle."
• By Jennifer Wulff. Bryan Alexander, Alexis Chiu, Jennifer Garcia, Marisa Laudadio, Ken Lee, Mary Margaret and Kristen Masciain L.A., and Steve Hellingin Kentwood, La.