•
Gwyneth Paltrow
, catching a screening of her new movie
The Good Night
(directed by her brother
Jake Paltrow
in East Hampton, N.Y. Joining the actress at the Cinema Society screening was hubby
Chris Martin,
who caused a bit of a stir when he arrived. The Coldplay frontman, looking scruffy under his porkpie hat, walked right past security guards who promptly grabbed him and tried to stop him from entering the theater. Luckily, one staff person came to his rescue, and Martin joined his wife inside. Also at the screening:
Paul McCartney, Christie Brinkley
and
Billy Joel.
Following the film, guests headed to Ron Perelman's historic estate, The Creeks, for a post-screening dinner.
•
Hayden Panettiere
, walking her two dogs in West Hollywood. Wearing her signature white plastic sunglasses, the
Heroes
actress smiled as she walked her dogs and chatted with neighbors. And the pets couldn't help it, barking when a AAA tow truck got in their way.
•
Kate Bosworth
, waiting in a
very
long line at a Beverly Hills post office. Dressed in a purple summer dress and silver, over-the-shoulder purse, the actress checked her e-mail as she waited in line. When it was her turn at the window, Bosworth removed a garment from a box and shipped it out.
•
Ashley Olsen
, trying to get into the Cha Cha – a hipster tiki-style bar in Los Angeles's Silver Lake neighborhood. Discouraged by the long line – and the promise of waiting in it –the starlet asked her friends if it "was even worth it." Obviously deciding it was not, Olsen promptly took off.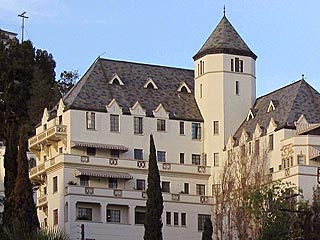 • At a very crowded Chateau Marmont in West Hollywood,
Bruce Willis
, sitting next to
gal pal
Karen McDougal
and three other very important ladies in his life – daughters Rumer, 19, Scout, 16, and Tallulah, 13. The sisters were especially chatty with each other, while Willis, dressed in a thin, grey v-neck sweater, kept his arm around McDougal. Also at a dinner party at the Chateau:
Victoria Beckham
and
Eva Longoria
who seemed to get along like old friends, and
Hilary Swank,
who dined with beau
John Campisi
and another couple. Inside, in the living room,
Michelle Rodriguez
held court, laughing and talking animatedly with her group of female friends.
• By MARISA LAUDADIO and JEFFREY SLONIM
Monday's Couples Watch >