Brad Pitt
credits his social activism – as well as his relatively newfound parenting skills – to growing older.
"I liked it, man," Pitt, 43, tells
Details
for its October issue about turning 40. "Maybe I had a crisis earlier or something. Maybe I had it in my 30s."
Of aging he adds, "One thing sucks, your face kind of goes. Your body's not quite working the same. But you earned it. You earned that, things falling apart."
When it comes to his philanthropy – Pitt is working with
Global Green
to build eco-friendly homes in New Orleans, among other projects – Pitt says that, too, was part of his maturation process and learning to see the world beyond Hollywood.
"I carried the standard cynicism," he says. "But it was also feeling like, I can't sit on my couch anymore, I'm going crazy. This thing I'm doing with my life, it's very nice ... But it's not doing it for me."
Now, he says, when he looks at his four children, what he sees is the future. And when he looks at the future, what he sees are even
more
children.
"We're not done," Pitt tells
Details
, echoing what he
told reporters
Sunday at the Venice Festival, when asked if he's prepared for a fifth child: "Yeah, we're ready."
Of the seemingly instant family he built with
Angelina Jolie
, "I had one kid, then two kids, then three kids [in] two and a half years or so," Pitt tells the magazine (on sale Wednesday).
But he hasn't been thrown by all the fast changes. "Listen, I've always embraced extremes, so it doesn't feel odd to me," he says. "There's a couple weeks of finding your balance, and then it's in stone."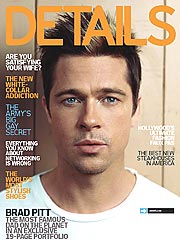 And Pitt says he is delighted to be a dad to Maddox, 6; Pax, 3; Zahara, 2; and Shiloh, 1, who are from all over the world. "You just look at them and go, my daughter's from Ethiopia, two sons from Asia, a daughter who's born in Namibia – and they are brother and sister."
Taking a hand in improving the world, he says, is "something that brought Angie and I together certainly – she's absolute evidence for me of someone facilitating changes for the better."
Of the universe he has created with his family, Pitt says, "It pleases me so
much.
I get so warm. I don't even see in that, anymore, what their lives could have been. I have to intellectually think about that. They are a bond, they are a family. And I want to see those bonds and that family grow. And that right there, sitting in our kitchen, is how I want to see the world. It's how I want the world to be."
In contrast, he says of a world he shuns, "This Paris Hilton quest for fame ... she's blissfully obvious." Remembering the heiress's stint in jail, Pitt says, "We hadn't seen television for ... like a month. I'm probably exaggerating. And we just got back to the United States. And we turned on CNN. And on comes Paris Hilton, going to jail. And so we just turned it off again."