And now the professionals are weighing in: Reality TV judges
Simon Cowell
and Bruno Tonioli are offering their – surprisingly different – opinions of
Britney Spears
's much-maligned
performance
at Video Music Awards.
While a disappointed
Dancing With the Stars
' Tonioli told PEOPLE, "Everything was wrong," the usually blistering Cowell of
American Idol
went easy on the embattled pop star.
Speaking to
Extra
, Cowell said, "She stole the show, whether you liked it or not. The only thing you heard about the following day was Britney Spears."
Granted, Cowell admitted, "It wasn't the best performance. She wasn't ready for it." But, he notes, "She's had more attention in the last 48 hours than any artist on the planet."
Tonioli, who says, "I'm a fan of hers," also adds: "I think it was sad, because you have someone who used to be great. I saw her years ago in concert, and she was the whole package. She's a gorgeous girl. It was almost like a ghost of that."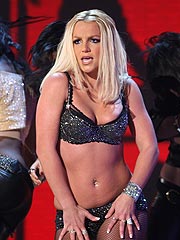 Of the performance, Tonioli says, "There was a disconnect in her eyes, dancing was poor, she couldn't even get the lip- synching together. She obviously has talent and it has been squandered. How could something like this happen?"
In a way, Cowell is equally bewildered. His advice to Spears: "Dump her friends ... fire the stylist. Be sensible. Put her in rehearsal for four weeks, get her into the gym [because] when she's on it, she's incredible."
Still, when it comes to her single, "Gimme More" – which debuted strongly on the national radio airplay chart, in 69th place, reports
USA Today
– Cowell, reverting to his usual character, says, "This was just an okay record."
•
Reporting by MICHELLE TAN