A country star since she was 13 years old, LeAnn Rimes is now seriously thinking about the next big step in her life: children.
"We talk about it often," Rimes, now 25, tells
Redbook
magazine in the October issue, of her discussions with her husband, dancer Dean Sheremet. "We also talk about the huge responsibility. We wake up some mornings and say, 'What would we do if we had a kid? How would we work this?'"
She didn't offer a possible timetable – though suggested it may still be a couple years off – but did say she's reconsidering her earlier plans to adopt, despite lingering fears about childbirth.
"I'm a little freaked out by it," she tells the magazine. "But when I met Dean – I know how compassionate he is about children. So now I want to have a child of
ours
. I might love being pregnant – you never know. I'm keeping a very open mind about the whole thing. But I do want children, definitely. That's part of my life I don't want to miss out on, and I have a lot of love to give that way. I can't wait."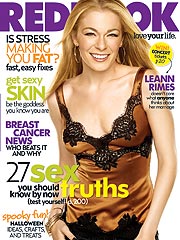 Rimes, whose 10th studio album,
Family
, comes out in October, is certain about one thing: She made the right decision to marry Sheremet five-and-a-half years ago, even though she endured criticism because she was only 19.
"Getting married is probably the best thing I've ever done," says Rimes. "He's such a great leveler for me."
Who's turning 40? Which celebs are high school dropouts? What's hot and definitely not in fall fashion? Check out PEOPLE's new digital magazine now!