George and Keira rocked – Woody Allen, not so much.
This weekend marks the end of the movie lover's dream that is the Toronto Film Festival, and after unspooling 349 movies from nearly 60 countries, the fall movie season (and Oscar possibilities) suddenly got a little clearer.
There were potential studio blockbusters starring
George Clooney
(in
Michael Clayton,
a terrific corporate thriller), Jodie Foster (in
The Brave One,
a detestable, pretentious reprise of
Death Wish
) and other big names. But there were also low-budget entries from countries as geographically and culturally distant from Hollywood as Burkina Faso and Uruguay.
Of the nearly three dozen movies I managed to catch in my week in Toronto, here are the three I liked best and the three that were the most disappointing. All are slated to open in the U.S. in the next few months:
The Best
1. Atonement:
For sheer romantic scope and drama, there's no beating this almost-sure nominee for Best Picture come Oscar time. A haunting adaptation of Ian McEwan's bestselling novel, it's set in England just before and during World War II and chronicles the far-reaching reverberations of a single lie, particularly on the lives of two young lovers, who are beautifully played by
Keira Knightley
and James McAvoy. Joe Bright (2005's
Pride & Prejudice
) directed.
2. I'm Not There:
Talk about audacious: Director-cowriter Todd Haynes (2002's
Far From Heaven
) uses six different actors (including Cate Blanchett, Heath Ledger, Christian Bale and Richard Gere) to portray troubadour Bob Dylan, each representing a different facet the legendary singer during his long career. The result is a psychedelic kaleidoscope of a movie that, while never a straight biopic, ends up summing up this mystery man as accurately as it's probably possible to do.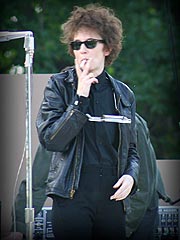 3. Juno:
Teenage pregnancy seems an unlikely topic for a comedy but there are few movies more surprisingly cheerful that this quirky comedy, which is likely to make a star of lead actress Ellen Page, 20 (who previously appeared in 2005's
Hard Candy
and 2006's
X-Men: The Last Stand
). She plays the title character, a tart-tongued 16-year-old who, upon finding herself preggers, decides to give the baby to a yuppie couple (
Jennifer Garner
and Jason Bateman). Jason Reitman (2005's
Thank You for Smoking
) directed.
The Disappointments
1. Elizabeth: The Golden Age:
Cate Blanchett gives her usual fabulous performance in this sequel to
Elizabeth,
the 1998 movie that made her a star, but the rest of this historical epic about England's first woman ruler is a dud. Though sexy Clive Owen turns up periodically to flirt with Blanchett's middle-aged queen, director Shekhar Kapur alternates between ponderous posturing and ill-advised action sequences, the whole adding up to one long bore.
2. Cassandra's Dream:
Director-writer Woody Allen comes a cropper with a lackluster crime drama which plays like a pale retread of his own earlier, better films exploring the moral ramifications of murder, such as 1989's
Crimes and Misdemeanors
and even 2005's
Match Point.
Ewan McGregor and
Colin Farrell
play brothers in London who find out, to at least one's eventual chagrin, just how far they'll go for a chance to score a big payday.
3. The Walker:
Like Allen, director-writer Paul Schrader treads on an all-too-familiar path, this time covering territory highly similar to 1980's
American Gigolo
, which he wrote. Woody Harrelson in
Walker
plays a character very similar to Richard Gere's in
Gigolo
, except that Harrelson's is gay. Like Gere, he wears expensive clothes to which he pays an inordinate amount of attention, squires around rich, older society matrons, and finds himself mixed up in a murder case while trying to protect one of these women. The whodunit part of the movie is both obvious and dull, and despite a solid performance from Harrelson, it can't avoid a sense of been there, done that.