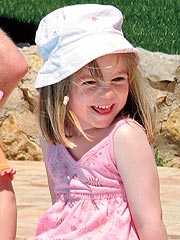 Certainly the crises and false leads of the past five months have worn them down. Despite numerous sightings around the world of children resembling Madeleine, including one in Morocco where a tourist's snapshot of a blonde-haired youngster triggered a media frenzy on Sept. 26, none have panned out. Though Portuguese authorities named the McCanns as official suspects on Sept. 7, a judge recently ruled there was no evidence that warranted further questioning of them. But that has not stopped the Portuguese press from continuing to flay the couple, with each day seeming to bring some new allegation or innuendo. One recent unsubstantiated scenario: that Madeleine was killed as the result of an accidental fall down a flight of stairs at the resort in Praia da Luz where the family was staying and that Kate and Gerry then hid the body. As one source confidently told the paper
24 Horas,
"The only thing to investigate is how the body disappeared."
Perhaps Kate McCann makes an easy target. Whether the McCanns are ever charged with a crime remains to be seen, but to observers, the couple are at the very least guilty of questionable judgment for leaving three small children on more than one occasion unattended while they went out for dinner with a gang of friends now referred to in the press as the "Tapas 9." Nor has it helped that in her public appearances Kate has at times appeared chilly or emotionless. "Kate comes across as being cold," acknowledges one acquaintance in Portugal.
But there is more to her steely demeanor than meets the eye. For one thing, in the early days of the investigation British profilers told the couple to remain calm when discussing the case in front of the television cameras. The reason: Madeleine's abductor might become excited by seeing them suffer – which could conceivably put the child in greater danger. "They were advised very early on that pedophiles get a kick out of seeing completely distressed parents," says family friend Jon Corner.