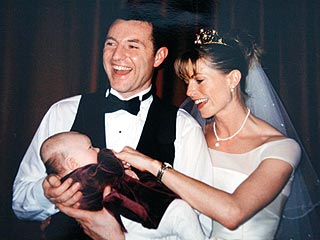 The other fact, say friends, is that she is not someone who feels comfortable in the limelight. Kate Healy, the only child in a Catholic working-class family in Liverpool, grew up somewhat shy and studious. She excelled at school and entered the medical program at the University of Dundee in Scotland. And yet for all her accomplishments she harbored self-doubts. "Kate has always been a quiet, sensitive person," says Linda McQueen, a longtime family friend from Liverpool. "She's not overly confident, despite her intelligence and good looks."
During medical school she did come out of her shell a bit. According to her yearbook, she was known as "Hot Lips Healy" and had a reputation for enthusiastic partying on Friday nights. She met her future husband while both were doctors in training at an infirmary in Glasgow. A year later she left to do a stint at a hospital in Wellington, New Zealand. Gerry had already been scheduled to continue his training in Canada, but at the last minute he got himself switched to New Zealand as well. As he quickly made clear, while his duties were medical, his intentions were romantic. "He told us he'd come for her, to woo her, really," Ian Gearey, a friend there, told a local New Zealand paper. "He won her heart." They returned home and in December 1998 were married in Liverpool. In 2000 they moved to the Leicestershire area, where Gerry had landed a job as a cardiologist. Though Kate was qualified as an anesthesiologist, she chose instead to work as a general practitioner, believing it would give her more flexibility when she had children.
But fertility problems put a crimp in that plan. "Being an only child, she always wanted a big family, lots of children," says McQueen. "Unfortunately, it didn't happen." The couple had to fall back on fertility treatments that entailed, says McQueen, "all the traumas you go through, all the ups and downs." With the help of in vitro fertilization, Madeleine was born on May 12, 2003. "If you look at what it takes to be a doctor and go through IVF, she must have some steel inside her," says Corner.