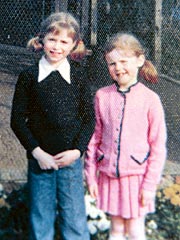 If so, say those who have met her, it does not appear to be the cold or inflexible variety. One British expatriate living in Praia da Luz who got to know the McCanns well says the image of Kate as an ice queen is all wrong. "She's a very warm, very kind person," says the source. "When local people would speak with her she'd always hug them." As for her handling of Sean and Amelie, the source found Kate to be a doting mother. "They would sit on her knee and she would read them stories," she says. "They were always huggy and she always put the kids first."
The same pattern seems to have continued back in Britain, where she and Gerry have endured much unwelcome attention just so Sean and Amelie can enjoy some of the simple pleasures of childhood. "They took the children to buy shoes a week ago and they were followed and people were staring at them," says Philomena McCann. "It's very difficult." McQueen says that during her recent visit to the McCann home she saw how the couple try to balance the needs of Sean and Amelie with their own emotional state. "If the twins showed an interest in going into Madeleine's room, then Kate or Gerry would take them in for a couple of minutes," she says, though the door is normally kept closed. "They want to keep things in place for Madeleine when she comes home."
At the same time, the McCanns have been deeply touched by the gestures of support they have received from around the world. For instance, many of the teams in Britain's Premier soccer league have showed up for games wearing T-shirts emblazoned with Madeleine's image; jockeys at Ascot racetrack did the same. As Gerry wrote on his blog, "The fact that so many people are prepared to show solidarity with us in our search for our daughter does help restore our faith in humanity."