Kate Walsh
, who turned 40 on Saturday, says she had no angst about reaching that milestone birthday, largely because she got to share it with her new husband, movie executive Alex Young.
"Probably, honestly, I would have cared more if I were still single," the star of ABC's
Private Practice
tells
Marie Claire
for its November issue. "But I've also been working through all the big things that you grapple with as a female: relationship, work, fertility. I feel I'm in such a place of peace in my life that 40 feels like a great marker of a great year."
Walsh says she had let the idea of marriage go – until she met Young, 36, a co-president of film production at Twentieth Century Fox, at an executive meet-and-greet in February.
"I met him, and I knew unequivocally," she says. "Is that strange? I used to want to hit people who said, 'You know when you know.' It made me want to throw up. But I'm the annoying one now."
The couple moved in together just a month later, got engaged in May, and were
married over Labor Day weekend
.
A True Gentleman
Walsh describes her husband as "super-intelligent, super-smart, very handsome" and "a true gentleman." But just as important, she says, is his curiosity about the world.
"It's so easy to be cynical, but it's not how he lives," she says. "I've always known I've needed someone who lived from his heart."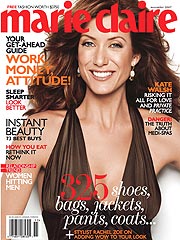 Walsh says she doesn't know yet if they will have children – and that's another thing, like her age, that she refuses to worry too much about.
"I realized that I didn't want to have a child badly enough to do it on my own," she says. "Now I have a great guy, and maybe we'll have kids and maybe we won't. I don't know. I'm not interested in cramming it all in. I don't think that's a healthy way to live."
Nor is obsessing over your looks, she says, particularly as you get older.
"I went through a phase last year where I obsessed over every flaw," she says. "I'm so happy that I got through it and didn't take any action. Because it was just the regular anxiety of, 'It's weird to age.' My body changed hugely between 35 and 37. Everything suddenly dropped. This is pretty much how it's going to be for me, right here. I enjoy life, and part of that for me is eating."