Love hasn't always been kind to
Jessica Simpson
– even since her divorce from
Nick Lachey
– but the singer and actress says there's something empowering about the disillusionment that comes with heartbreak.
"I've had my heart broken since my divorce," Simpson, 27, tells
InStyle
for its November issue, perhaps referring to her relationship with John Mayer, which
ended in June
. "That's OK. I believe you fall in love more than once and get your heart broken more than once. Trust me, I have cried myself to sleep."
Simpson says she once felt like "the princess in the fairy tale – then reality came crashing in, and I learned that isn't always how life works."
Still, in the bigger picture, that may be a valuable lesson to learn. Nowadays, Simpson says, "I am in complete control of my life."
The Simpson Sisters
In the
InStyle
piece, Simpson answers questions from friends and family. When sister Ashlee asks what she likes most about having a younger sister, Jessica says it's that they can lean on each other.
"I go to my sister for advice all the time, mostly about guys, life or how to deal with an argument with Mom or Dad," she says. "You'd think she was older. I had to go through life first, and she saw the choices I made, good or bad. She can look at my life and be, like, 'OK, I'm not gonna do it this way.' I might be a little more jaded, but it's exciting for me to see her making good choices."
Rachael Leigh Cook, Simpson's co-star in
Blonde Ambition
, asks how people would know if Simpson were ever angry.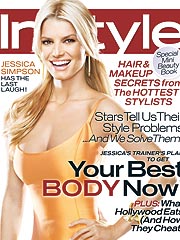 "I get quiet. Very quiet," she says. "I can't really yell or scream at people. I either kill 'em with kindness or withdraw and figure it out within myself. Or I call my sister. ... I'm not really a confrontational person. I should be, but I'm not."
Asked by an InStyle.com reader about her eating habits, Simpson says, "I let myself taste what I want. I have a couple of indulgent bites, and then I'm satisfied."
Simpson also pokes fun at herself – with help from actress Cheri Oteri, who asks, "True or false? When you were at the White House in 2004, you said to the secretary of the interior, 'I love what you've done with the place.' "
"Very true," Simpson says. "That was another Jessica moment. People just love it when I make an ass of myself."