•
Jessica Alba
, out for an afternoon of shopping in Beverly Hills with a female friend. Hopping out of a hybrid car, the two popped some change into a parking meter then browsed dresses at boutique Anat B. Next, they hit nearby Urth Caffe, taking a corner table, where Alba enjoyed the conversation – and her salad and iced tea, an onlooker tells us.
•
Mel Gibson,
eating a Kobe burger alone at Whist restaurant at Santa Monica's Viceroy hotel after fires forced the actor to evacuate his Malibu home.
•
Reba McEntire,
indulging in a rich culinary surprise – the Mystical Chef Andy Cut Roll – during dinner with friends at Ritual in Hollywood. While the ingredients are usually kept hush-hush, we can reveal that the country star's dish included crab, onion, asparagus, bluefin tuna, avacado, Albacore and caviar. And for garnish – 24-carat gold flakes!
•
Heroes
star
Zachary Quinto,
waiting patiently for a table with a friend at Silver Lake brunch spot Millie's. Sporting stylish gray jeans and funky big sunglasses, the actor chatted with a male friend while waiting to be seated.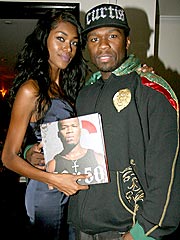 •
Billy Crystal,
sitting in the wedding dress section of Bergdorf Goodman in New York City as his daughter got her second fitting. Says an onlooker, "His daughter walked out and looked lovely. He was just glowing. He was so proud of her."
•
50 Cent,
hosting a chic dinner at Philippe, a restaurant on New York's Upper East Side, to launch his book,
50 x 50: 50 Cent in His Own Words,
after signing copies earlier in the day. After making it past the guard stationed outside of the upstairs, private room, guests could feast on heaping platters of Peking duck with pancakes and scallions, shrimp, crispy beef, and squab. As for the book's inspiration, well, the rapper, who ate sliced steak with friends, told us it has a family connection. "My grandmother had a lot of the photos, and she said, 'You should put together a book,' " he told us. "And I was so excited about seeing the different time periods."
• By REAGAN ALEXANDER, JENNIFER GARCIA, MAUREEN HARRINGTON, LISA INGRASSIA and JEFFREY SLONIM
Wednesday's Caught in the Act >