NASCAR champion Jeff Gordon and his wife, Ingrid Vandebosch, are relishing life with their five-month-old daughter Ella Sofia.
As a first-time dad, Gordon, 36, tells PEOPLE he loves being hands-on with the feeding and diaper duty, but finds giving baths to little Ella the most rewarding. "The baths are the best! She's so happy in the bathtub," said Gordon.
The NASCAR and Daytona 500 racecar driver has experienced some big milestone moments with his daughter. "She got spoon fed for the first time [recently]," said Gordon at the Sprint Nextel and Tiffany & Co. NASCAR celebration in New York City Wednesday night. "I can't say she's gone a long way with that, though."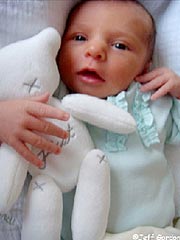 Another milestone occurred when Gordon and Vandebosch celebrated their one-year
wedding anniversary
in Mexico with their daughter earlier this month.
"She got to swim for the first time. Well, she was floating," Gordon said. "She loved it."
Asked if Gordon thinks his daughter might follow his career path onto the racetrack one day, "I'm not necessarily expecting her or pushing her," he said. "I'd be surprised if she becomes a racecar driver."