This year's recipients of the Kennedy Center Honors, which were handed out in a glittering ceremony last night in the nation's capitol, is quite the list of luminaries. Making up the talented quintet are: Beach Boy Brian Wilson, Academy award-winning director Martin Scorsese, singer supreme Diana Ross, actor-comedian Steve Martin and pianist-conductor Leon Fleisher, whose story of losing the use of his right hand was told in the 2007 Academy Award-nominated short subject documentary, "Two Hands."
The 30th annual ceremony had its share of shining stars singing their friends' praises. Scorsese brought out fellow director Francis Ford Coppola, Cameron Diaz, and the reclusive Robert DeNiro, who, as the star of several of the director's angst-ridden films, told him, "You still have the same passion, drive and intensity you had when we were starting out together. And as for me, well, I'm doing comedy. But don't worry, Marty, I still have enough misery in me for us to do a few more pictures together."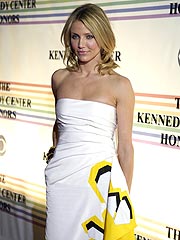 Jonathan Ernst / REUTERS / Landov
Art Garfunkel, Lyle Lovett, and Hootie and the Blowfish were on hand to pay tribute to Wilson. Steve Carrell, who honored Martin, remarked that "his comedy act was that of an idiot savant, minus the savant." Cellist Yo-Yo Ma was among those who toasted Fleisher.
Perhaps the most star-studded portion of the evening was the one honoring Ross. After spoken tributes from Smokey Robinson and Oscar nominee Terrance Howard, she was serenaded by Ciara, Vanessa Williams and American Idol winner, Jordin Sparks.
The two-hour special will air on CBS the day after Christmas.