•
Ashley Olsen
, indulging her love of "out there"
footwear
during a shopping trip in Beverly Hills.
•
Jessica Alba
, arriving at the Gramercy Park Hotel in New York by black Lexus SUV. The actress, sporting a red sweater, was dropped off with her mother and a small dog – and headed right upstairs.
•
Ashlee Simpson
, checking out Pete Wentz's band Fall Out Boy's concert from backstage at the Hard Rock Hotel in Las Vegas. Afterward, Wentz deejayed – along with pals from the band Gym Class Heroes – inside the Body English nightclub. Before playing Oasis's "Wonderwall," he issued a special dedication to Simpson. Said Wentz: "This is for you. I still love you."
•
Renée Zellweger
, making an emergency pit stop at a neighborhood Starbucks on the Rue de Courcelles after arriving in Paris. Also in the City of Lights, fellow
Bee Movie
star
Jerry Seinfeld,
lunching with his wife Jessica and their three children at Fouquet's on the Champs-Elysees. Afterwards, the sightseeing family caught some break dancers and jugglers in front of the Eiffel Tower. And apparently the funnyman was inspired by the entertainment; he showed off a few of his own moves for his kids, according to an onlooker.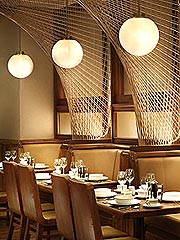 •
Sarah Jessica Parker,
congratulating
everyone
during the
Sex and the City
movie wrap party at the Royalton Hotel's Brasserie 44. The actress, who settled into a back booth, fielded her own "congratulations" from castmates like
Chris Noth.
•
Mandy Moore
, celebrating the 50th anniversary of L.A.'s Troubadour concert venue, during a special concert featuring
Carole King
and
James Taylor.
Split over three nights, the festivities attracted plenty of stars – including
Rosanna Arquette
on night one and
Julia Louis-Dreyfus
on the second night – who mingled on the upstairs VIP deck.
Jane Fonda
received the royal treatment up there along with her son and brother
Peter Fonda.
Despite the high star wattage, a concertgoer tells us, "It was such a nice, mellow group of people."
• By AMANDA FRIEDMAN, MARK GRAY, JESSICA HERNDON, PETER MIKELBANK and MICHELLE TAN
Monday's Couples Watch >