Playing together for the first time since 1988, Led Zeppelin rocked a capacity 10,000 crowd at London's 02 arena Monday night – a crowd that included celebs like Kate Moss, Naomi Campbell, Mick Jagger and Paul McCartney.
The rock legends played a 16-song set that included staples like "Stairway to Heaven" and "Kashmir," and they closed the show with the iconic barnstormer "Rock and Roll."
In the audience? A few rock legends themselves: McCartney, Jagger and his girlfriend L'Wren Scott, Priscilla and Lisa Marie Presley, with her daughter Riley Keough and boyfriend Ryan Cabrera. Also there: Moss, Campbell, Pink, Juliette Lewis and Jagger's former bandmate Bill Wyman.
The band split in 1980 after the death of drummer John Bonham at the age of 32: His son Jason Bonham, 41, sat in his place Monday night. Fans from as far as Japan won tickets to the show – a benefit for an education fund established by the late Atlantic Records founder Ahmet Ertegun.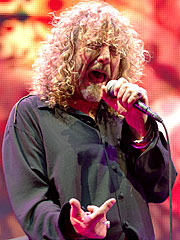 Ross Halfin / Getty Images
Before the band started up, lucky VIPs enjoyed a dinner by Las Vegas's rock-n-roll chef, Kerry Simon, who was handpicked by the band to cook a special dinner. On the menu: crab cakes, tuna tartar, sea bass, prime rib and a decadent chocolate dessert. Simon was flown in by a wealthy concertgoer who paid $250,000 to the Ahmet Ertegun Education Fund.
The show was originally scheduled for Nov. 26, but was postponed until Monday because guitarist Jimmy Page injured the little finger on his left hand. Critics were already raving about the performance (
said NME:
"We can only hope this isn't the last we see of them"), prompting speculation that the legendary band may reform to tour – although guitarist Page earlier told British journalists that "merciless repetition is not what it's all about."